Local Lib Dems have expressed disappointment that Hazel Grove's Conservative MP, William Wragg, voted against keeping the EU animal welfare standard that the UK itself put into EU law 20 years ago.
"It was the UK that initially succeeded in getting the EU to accept that animals should be treated as sentient: able to feel pain, hunger, heat and cold. This clause would have transferred and protected that right in UK law after Brexit," said Cllr Jon Twigge.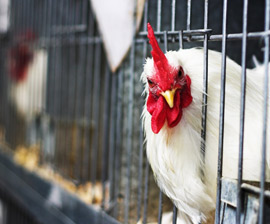 The proposal, from Caroline Lucas and the Greens, was supported by the Lib Dems and Labour. The Conservatives voted it down, meaning that there is now no certainty over animal welfare conditions in the UK after Brexit.
The vote, followed comments from Boris Johnson saying that attempts to ban bull-fighting were ­"political ­correctness gone mad". At the General Election the Conservatives suggested that they might legalise fox hunting.
"Animal welfare is important to British people but we have been let down on this yet again," said Jon.